We Specialize in Special Needs Homeschooling
Dr. Levy has had extensive experience in designing homeschooling curricula for students across the country and the world. She helps parents monitor their children's progress and gets outstanding results. This is performed for a nominal fee. If you are taking the time and interest to homeschool your child, this is a must! It is important to customize and individualize curriculum to achieve the best results.
For many students, finding the right academic program that caters to an individual's specific needs is just as important as the student's educational capacity. Certain students need an individualized skills building program to reach their peak academic potential. At Levy Learning Center, we provide one-on-one and small group home schooling programs tailored to the needs of each individual student. Students develop the core skills necessary for academic success using our research-based technique and a positive, confidence-building environment. Our customized home schooling programs provide students with instructional sessions that teach students the fundamental skills essential for academic success. Students are initially assessed to determine their strengths, weaknesses, and academic levels. We then construct a custom-tailored program that is specifically based on his or her abilities and capabilities. The student is matched with a highly trained specialist to build core academic skills and independent study strategies. In addition to academic enrichment, students will learn effective organization, motivation, and confidence-building strategies.
We do virtual or on-site homeschooling at reasonable rates.
Students will build skills in:
Multi-sensory instruction
Reading and Spelling
Reading Comprehension
Writing Organization and Development
Vocabulary
Note Taking
Test Taking
Organization
Multi-sensory Math
Time Management
Study Strategies
Visual and Auditory Processing Skills
Please contact us for further information and to apply to our home schooling program.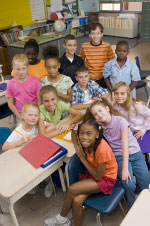 Levy Learning Center Day School
2210 Pierce Street, Hollywood, FL 33020
For those students who chose to learn in a one-on-one school setting, we offer a personalized program in a secure, positive environment.  The teaching is provided by our professional teaching staff in a classroom with only two to four students and their teacher.
It is important to match your child's learning style to create a learning environment for your child to excel.  Most of our students are looking for a specialized school for their students with Dyslexia, Learning Disabilities, CAPD, or ADHD who are not reaching their full potential in their present school.  We also serve those students whose parents want a different form of education, one in which they are presented a more challenging curriculum.
We believe that all children can be successful, competent, and motivated learners.  The key to their success in language competency which is central to all aspects of academic, social, and emotional growth.  Proficiency in language means more than language competency.  It is more than basic reading and writing skills.  It is all about understanding and following directions, organization, problem solving, building general knowledge, expressing ideas, making friends, assessing social actions, and behaving appropriately.
At the Levy Learning Center, students succeed in academic subjects.  They become aware of their learning strengths, as well as their weaknesses, and learn strategies which can be used to achieve further academic success.  We work with the parents of our students to promote self-esteem in their children.  We empower our students to advocate their educational needs.
Academic Program
Our curriculum is language-intensive, with small class size.  Students receive direct instruction in all academic areas, rather than working on independent assignments during class time.  In order to provide direct instruction, students are grouped according to instructional levels.  Progress is monitored continually and modifications in group placement are made whenever needed.
Curriculum

Language Arts
There are three periods of language arts each day: reading, writing, language skills, and study skills.  Our staff is trained in the Orton-Gillingham approach and the Lindamood-Bell Language Process®.
---

Mathematics
Students participate in daily periods of math, taught in small, homogeneous groups, aimed at helping students develop the ability to solve problems, reason logically, and communicate mathematically.
---

Science
Our science curriculum is hands-on, developing problem-solving and cooperative learning techniques.
---

Social Studies
Our program helps students develop the skills and processes needed to educate citizens.  It integrates content with reading, writing, and study skills.
---

Digital Learning
We use computers in a blended learning environment. We believe that there are certain things that computers can do well, and certain things that teachers can do better. We take advantage of that principle in our school. We use cutting-edge software, much of which was developed and tested in our center for reading and language arts. We use the best math programs around to help students with the drill and practice that they all need.
In addition, all students enjoy regular periods of physical education, art, and music. Computer skills and keyboarding are also taught. We have touch screen computers which allow hands-on, kinesthetic reinforcement of letter formation and the sound structure of words.
Instructional Method
The Levy Learning Center Day School offers a multi-sensory, structured program, based on researched-based methodology. Key to our educational methods is the Orton-Gillingham program. Dr. Samuel Orton, a neurologist, and Anna Gillingham, a psychologist, first developed this approach which teaches reading, writing, and spelling to students who have not learned to read and write adequately with conventional teaching methods.
The Lindamood-Bell® method uses symbol imagery for fluency, sight words, and spelling. It also stresses language comprehension and critical thinking.
Our staff are trained on both Orton-Gillingham and Lindamood-Bell® methods.
At the Levy Learning Center Day School, reading, spelling, and writing are taught in one integrated lesson. This allows each aspect of written language to reinforce the other. This approach is different from conventional instruction in which phonics (sound-letter association), writing, reading, and spelling are taught as completely separate subjects. The reading component places emphasis on both accurate word recognition (sounding out words) and comprehension. Reading Comprehension strategies include Highlighting, Summarizing, Retelling, and Drawing Conclusions. Spelling is taught through daily dictations in which students learn to encode spoken language.
The Strategy for Success program was written by Dr. Emily Levy and includes workbooks to improve reading comprehension and develops better skills at writing paragraphs and essays. This program has been used successfully in the private sector as well as in the Supplementary Educational Services.
Levy Learning Center, Inc. is not Lindamood-Bell Learning Processes®, nor is it affiliated with, certified, endorsed, licensed, monitored, or sponsored by Lindamood-Bell, Nanci Bell, Phyllis Lindamood, or Pat Lindamood.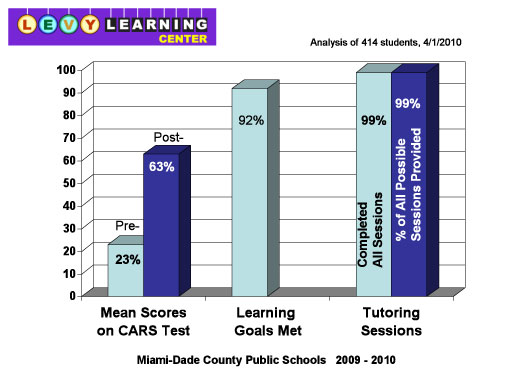 Instruction begins by teaching students each letter, then immediately building the sounds into meaningful sounds and sentences. Students see and write each letter, as they see and hear each sound. We often use a special touch screen tablet computer to allow the student to trace with their index finger each letter and sound. This optimizes the kinesthetic memory. This multi-sensory approach helps students remember basic phonetic principles required for fluent reading. Principles are reinforced by teachers across the curriculum. Instruction is carefully individualized so that each student can progress at his or her optimal rate. Higher levels of Orton-Gillingham sequence focuses on multi-syllabic words and prefixes, suffixes, and roots to build vocabulary.
Organizational skills are often missing in our students. We spend much effort and time to assist the students in developing these skills. We use many different methods, including technology to work on these issues, which often keep the students back from reaching their true potential.
Levy Learning Center is NOT Lindamood-Bell Learning Process® nor is it affliated with, certified, endorsed, licensed, monitored, or sponsored by Lindamood-Bell, Nanci Bell, Phyllis Lindamood, or Pat Lindamood